Office renovation/fit out
Warsaw and its surroundings
Among the popular services provided by Magnificent is office fit out renovations.. Warsaw is a city of business, and caring for the company's headquarters is the showcase of a good manager. Office renovations are carried out as requested by the client and, of course, with the latest knowledge in the art of construction. The end result is that each employee will feel great and work productivity will increase. Contrary to appearances, the architectural layout of the rooms has an impact on this. This is also influenced by the fit out trend.
Modern fit out in Warsaw – what's behind it?
Nowadays, the work connected with preparing an office for use by the employees of a given company is not limited to basic activities connected with finishing the room and carrying out, for example, a ready-to-use electrical installation. The fit out concept goes much further. Above all, fit out relies on personalised solutions. The goal is to create an office that is perfectly tailored to your needs. It should be like a custom-tailored suit. This fundamentally distinguishes these activities from the standard ones on the market.
Renovations of Warsaw offices, which give them a new character
As far as clients so desire, Magnificent will not limit itself to only renovating the workspace for the employees of a given office. We can go much further by implementing the fit out trend assumptions mentioned above. We are flexible, so we recommend a wide range of activities as part of our office renovation service.
Fit out includes, among others:
designing office space,
the selection of suitable materials,
full implementation of ready projects,
professional advice.
We hope that all our clients will be happy with the proposals. Naturally, we are also open to suggestions and even ready-made projects that we can carry out in accordance with all the suggestions of the investor. Whatever the nature of our operations, we are always taking a solid approach to renovating offices, as only this gives complete customer satisfaction.
Technical facilities that others don't have
The strength of our company is top-of-the-line staff. The fit out team is made up of professionals with extensive professional practice. We conduct systematic training of staff so that all renovations of Warsaw offices entrusted to our team can be carried out without any obstacles. But that's not all! We use excellent technical solutions in the form of tools and machines in our work. Magnificent's standard is also to use only the best building materials.
Fit out projects in Warsaw and much more
Complex office renovations mean that many buildings can take on a completely new character. It should be stressed that our activity extends beyond the capital. We are also active in other locations because we want high-class construction and renovation services to be accessible to the widest possible group of interested parties. We encourage you to contact us about orders consistent with the fit out trend as well as other types of work that you prefer.
We offer comprehensive renovation services in Warsaw and the surrounding area.
The wide range of works – including the design of interiors, electrical installations and mounting of suspended ceilings – makes us the perfect partner in every stage of the work.
We can renovate office spaces, shops, single-family houses and apartments.
Our specialists have been active in the construction industry for many years. Their expertise combined with continuous improvement of their skills make the renovation work quick and professional, and their effects always satisfactory.
As a company with extensive experience in the renovation industry, we are committed to the quality of the services offered. At every stage of the work we consult with the client and provide a three-year warranty for the services provided.
We treat every renovation order as a new challenge, which allows us to show our best side. We strive to create a new reality where our clients feel confident and comfortable.
In Warsaw and the immediate vicinity, the initial valuation and the quotation estimate based on the stated scope of the investor's work is provided free of charge.
We invite you to review the entire website and contact us if you would like to arrange a meeting.
Magnificent Warsaw renovations






Office renovations – how often?
Every interior after some time needs a thorough renovation. The exact frequency depends first on the use of the office and the necessity of representation. The average Polish company renovates their office every 3-4 years. Companies which offices are used intensively and have a high density of people are therefore subject to wear and tear. Magnificent offers renovations for such companies in Warsaw and the surrounding areas. Not only does the company provide comprehensive construction services, it also deals with the arrangement of specific rooms. By outsourcing this work to a professional outside company, you can be confident that all the work will be supervised on an ongoing basis. This saves valuable time – it will certainly be appreciated by those who are particularly interested in fast, efficient and professional renovation.
Magnificent offers comprehensive renovation and construction service in Warsaw – so you can order a wide range of works. They do not need to be directly related to renovation services, they may also apply to construction works. Magnificent can prepare a comprehensive design and interior arrangement in private homes as well as conduct major office renovations. We specialize mainly in the installation or replacement of attractive ceilings. Contrary to appearances, their choice is extremely important, especially in offices where properly selected materials and solutions should not only comply with current regulations but also be adapted to the specificity of a given company's functioning. The choice of a ceiling may depend on a number of factors and is very often related to the architectural features of a particular building.
Renovation works in Warsaw – ceiling offer
In our offer, there are several variants of ceilings, which are made to order by the client. Their use depends on the entire layout of the room, but also on the solutions that are used in it. Today, even ceilings can be an interesting decorative element and complement the entire project. Properly matched to the interior, they will look modern and give it an innovative character.
There are different types of ceilings:
coffer/modular,
open cell (raster),
expanded metal (mesh) ceilings.
Each of them can be found in office buildings in Warsaw and other cities in Poland. They not only look very impressive but also stand out in terms of functionality. They enable all installations to be supplied and serviced. In addition to decorative features, individual ceilings also provide soundproofing functions. The choice of the right ceiling depends on the individual needs and expectations of the investors.
Fit out renovations – projects in Warsaw offices
Magnificent has provided comprehensive construction and assembly services in a wide range of locations, both for businesses and individuals. It performs renovations not only in Warsaw but also in the surrounding areas. One of the most common tasks is to install or replace ceilings, especially in modern office buildings.
Arrangement of office space for Direct
One of our clients was Direct, where the scope of the work included comprehensive design and arrangement of the office space. It was necessary to dismantle the various components and install special wall partitions in the Rigipis system. In addition, this renovation carried out in Warsaw included the painting of the surface and the construction of two bathrooms. Magnificent also mounted a Rockfon suspended modular ceiling on a surface of 500 m2. The ceiling looks extremely modern with its black and white colour and use of impressive plafones as lamps.
Comprehensive renovation of the CGI facility
Magnificent was also commissioned by CGI, whose headquarters are in the city centre of Warsaw. The entire area of the office is 2,200 m2 and the work took just over 2 months. This was a complete renovation of the office, covering both the dismantling of existing solutions and the construction of new ones. We also installed the partition walls, floor coverings and painted the entire space. Photos from the renovation can be viewed in the completed projects section where you can see the office space just after the renovation. We have also installed an Armstrong modular ceiling that perfectly fits into the interior and emphasized the style of the fit out.
Installation of ceilings in Sygnty S.A.
Sygnty S.A. also decided to install ceilings in its space. Magnificent made a decorative GK ceiling and a unique Ecoophone mineral ceiling on an area of approximately 300 m2. They stand out for their extraordinary practicality, and at the same time fit perfectly into the simple and elegant style of the entire interior. The aforementioned implementation can be seen on Magnificent's website: https://sufityarmstrong.pl/portfolio/sygnity-s-a/.
Specialist works for Trustwave
Another order was executed for Trustwave. The project included the installation of an Armstrong ceiling, which was used with Silhouette XL decorative scaffolding. The arrangement is maintained in shades of white, and lamps, smoke detectors and ventilation systems were installed in the ceiling. You can view the ceiling on our company's website https://sufityarmstrong.pl/portfolio/trustwave/ where you can see the elements that have been inserted into the space.
Mineral ceiling at Polimex Mostostal
The right choice and installation of ceilings in an office can affect not only the aesthetic value but also the functionality. For Polimex Mostostal, we made an Armstrong mineral ceiling, which was constructed of smaller coffers. Ceilings of this type are extremely solid and at the same time very modern. Images from the office are available here: https://sufityarmstrong.pl/portfolio/polimex-mostostal/ – based on this, every investor can choose an option for himself.
Project for Agito
Renovations in Warsaw carried out for companies do not have to be time-consuming and complicated. For Agito, we renovated a small office, which included the installation of wall cladding and partition walls. Quickly, efficiently and without any reservations from the client. In addition, we also made ceiling installations in the GK system and Armstrong mineral ceiling on an area of ​​almost 2,000 m2. The white coffers in shades look very elegant, so they perfectly match buildings such as the Gdansk Business Center.
Mazowiecki Oncology Hospital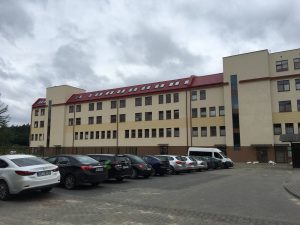 Magnificent offers renovations in Warsaw not only to private individuals and companies but also to public institutions. At the Mazowiecki Oncology Hospital, the scope of work included the installation of an Armstrong coffer ceiling. What distinguishes this project is primarily the use of high-quality ceiling panels from the SchlichtHygen series. They guarantee the insulation of the panels, which prevents the development of micro-organisms. This is particularly important in rooms with strict requirements, such as operating rooms.
An order for the FOX Studio
Interesting work was also carried out at the FOX Studio for the needs of pharmaceutical TV advertising. We installed an Armstrong mineral ceiling in the warehouse. We used retail ceiling panels that have a smooth surface without perforations and white plexiglass panels. Photos of this order are available on our website: https://sufityarmstrong.pl/portfolio/studio-fox/. The entire work lasted 8 hours and the final result was very modern.
Mounting of a ceiling at Heinz
Heinz also used Magnificent's services in the installation of a mineral ceiling. White coffers and Rockfon ceiling panels were used. Everything is complemented by lamps and all the sensors that have been aesthetically integrated into the whole. You can view photos of the interior of this office on the contractor's website: https://sufityarmstrong.pl/portfolio/heinz/, where you can see all the details.
Works for BANG&OLUFSEN
The execution of the order for BANG&OLUFSEN is above all about meeting the modern requirements of office buildings. When carrying out renovations in Warsaw for various investors, we know how important is aesthetics and high-quality materials. The panel used for the ceiling in this office meets even the highest requirements. It absorbs sound and effectively dampens it. What's more, the Ultima Vector panel is ultra-smooth, which affects the aesthetic qualities of the ceiling. You can see the full implementation here: https://sufityarmstrong.pl/portfolio/bangolufsen/.
Renovation of Play's office (Warsaw)
Play also benefited from a comprehensive renovation in Warsaw. The scope of the work included a number of construction and renovation activities, including wall demolition, dismantling of doors, partitions and ceilings. We then dealt with the installation of new components, including mainly a mineral ceiling made up of coffers as well as new partition walls and floors. In the online photo gallery: https://sufityarmstrong.pl/portfolio/play/, you can see the final effect that we have achieved.
Individual IFIS Finance project
OWe also carry out renovations in Warsaw based on the project provided by the client. This was the case with IFIS Finance, for which we carried out a major renovation of the Ufficio Primo building. Our work consisted, among other things, of installing walls, carpeting and floors. We also repaired the suspended ceilings after changing the installations. This enabled us to create elegant and aesthetic interiors. You can see the result of the renovation work at: https://sufityarmstrong.pl/portfolio/ifis-finance/.
Comprehensive renovation work for Leasing Team
Leasing Team also used Magnificent's services. The scope of the work included a number of renovation and construction activities in the office, including demolition of existing walls and dismantling of doors and ceilings. We then installed again partition walls, floors and doors. In addition, we also painted the surfaces and we also installed an Armstrong coffer ceiling and a suspended ceiling and other construction works. As a result, we obtained renovated and refreshed interiors. Office renovation in photos: https://sufityarmstrong.pl/portfolio/leasing-team/ here the ceiling we installed is visible.
Showroom - renovations
Not just renovations. We also installed modern modular ceilings in the showroom. Additionally, we carried out comprehensive renovations at office buildings in Warsaw, which included a number of assembly and construction works. All of Magnificent's projects can be viewed at https://sufityarmstrong.pl/galeria/, which lists the works we are doing and photographs of the final effects. In this way, every investor can easily see how the selected services look.